Medical Billing and Coding Specialist Program | Bridgeport & Danbury, CT
You're a natural when it comes to communicating with others, being organized, and having the ability to multi-task. An ideal career for you would be one where you could make a difference and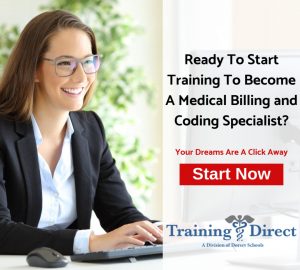 help medical offices run smoothly. You could have the opportunity to do just that in a rewarding career as a Medical Billing and Coding specialist. At Training Direct, our Medical Billing and Coding Specialist program is designed to help you prepare for your introduction in healthcare. We fuse both real-world training and classroom instruction to help your knowledge and skillset flourish.
Our medical billing and coding training at both our Danbury and Bridgeport, CT locations can be completed in as little as 4 weeks! The faculty members at Training Direct are committed to your success and want to help you live out your dream of becoming a medical billing and coding professional. Upon successful completion of the program, students will be eligible to challenge a National Certification Exam (additional fees may apply for certification exams). Day, evening, and weekend medical billing classes are available so you can attend classes at a time that works best for you (schedule availability will vary by location).
---
Are you ready to become a well-connected member of a healthcare team?
Request information to learn more today!
---
The Role Of A Medical Biller and Coder in Healthcare
A medical biller and coder plays a very important role in the healthcare industry, as they are part of a health care team responsible for a patient's care. Although they might not work directly with a patient, they are just as responsible for ensuring that they receive the proper care and attention needed. A medical biller and coder checks to make sure that a patient's medical data is both organized and accurate, as well as protected for confidentiality purposes. After a patient's medical data is recorded, a medical biller and coder uses classification software to assign clinical codes so that the correct diagnosis and procedure codes are implemented. This data is saved in a patient's chart for future analysis and can then be submitted to insurance companies for billing. The coded data is also used for other purposes, such as population health statistics1, as well as to maintain a record of the patient's treatments.
---
Stay Up To Date With Industry-Current Medical Billing and Coding Technologies at Training Direct
At Training Direct, you'll have the opportunity to be exposed to industry-current technologies that are available to a Medical Billing and Coding specialist. As technology becomes more advanced, more health care providers are beginning to use electronic health records. This means that there are more advanced technologies available to help a Medical Biller and Coder to complete their job responsibilities more effectively and efficiently. Completing your studies at Training Direct could help you feel more confident in your abilities as a Medical Biller and Coder, as you prepare to begin working in the medical field. Training Direct could equip you with all of the tools that are needed to perform your duties correctly.
---
Graduates Of Our Medical Billing and Coding Classes Can Explore Multiple Careers In Healthcare
After graduating from Training Direct's medical billing and coding classes, you can begin to pursue your new career in the medical billing field.
Medical Billing and Coding Specialists most often work in medical environments such as physicians' offices, hospitals, and nursing care facilities. As the current population grows, the aging population will need more medical services. This will require more medical billing and coding specialists to help arrange and systemize this additional health data.
---
What Your Class Schedule Could Look Like At Training Direct
Training Direct's Medical Billing and Coding course is comprised of eighty (80) clock hours. Students can benefit from in-class instruction covering a variety of topics to assist in their transition from the classroom to an administrative position within a healthcare setting.
Training in the Medical Billing and Coding Specialist program includes:
Medical terminology
Systems of the human body
Keyboarding
Medical insurance billing and reimbursement
HIPAA and the legal medical record
Physician coding and compliance
Claims processing
Billing and reimbursement for providers such as Medicare, Medicaid, and others
ICD-10CM and CPT
Coding compliance
Exposure to medical law and ethics
..and more!
---
Top 3 Reasons to Choose Training Direct For Your Medical Billing and Coding Training
You can complete the Medical Billing and Coding program in as little as 4 weeks!
Training Direct's Medical Billing and Coding training offers hands-on training in both the classroom and clinical setting.
Career services assistance is available to Training Direct graduates.
---
If you're finally ready to get started on this new medical career journey, Training Direct can help you on your path to becoming a Medical Billing and Coding Specialist. We offer career services assistance to every Training Direct graduate. You've waited long enough - why continue to wait to get started? Contact Training Direct today and let us help you achieve success!
---
Medical Billing and Coding Frequently Asked Questions
Want to learn more about:
What is Medical Billing and Coding?
What does a Medical Billing and Coding Specialist do?
How to become a Medical Billing and Coding Specialist in CT?
...and so much more!
Check out our Medical Billing and Coding Specialist FAQs page.
---
Additional Information: