Electrocardiogram Technician Program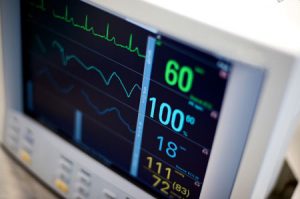 The Electrocardiogram (EKG or ECG) Technician program at Training Direct is geared towards providing students with the knowledge and understanding of how to perform and analyze electrocardiograms. The EKG Technician program also provides students with exposure to the Anatomy and Physiology of the cardiovascular system as well as training in Cardiopulmonary Resuscitation (CPR).   Students in the EKG Technician program will benefit from both classroom instruction as well as hands-on practice in the EKG Clinical Lab and CPR Lab settings. Upon successful completion of the EKG Technician course, students will receive a certificate of completion. In addition, upon successful completion of the CPR course and passing the CPR exam, students will receive a CPR certification from the American Heart Association. Students who wish to further their training, may use their EKG course towards completion of the Training Direct Patient Care Technician program.
Training Direct's Electrocardiogram Technician program is currently offered at our Bridgeport, CT school and day and weekend classes are available.
Electrocardiogram Technician Training
Training Direct's EKG Technician course is comprised of forty-five (45) instructional hours. Students can benefit from in-class instruction covering a variety of topics to assist in their transition from the classroom to a clinical setting.
Training in the Electrocardiogram Technician program includes:
Patient Preparation for the EKG
Analyzing and Interpreting Different Waves and Cardiac Rhythms
Overview of the Cardiovascular System and the Human Body
Lead Placement
Different Types of Instruments Used to Detect and Diagnose Heart Abnormalities
Discussion of Non-Invasive Tests
How To Detect An Abnormal Reading
CPR
..and more!
In as little as 2 weeks, you could be on your way to beginning a new career in the healthcare field as an EKG Technician!
Career Outlook
A career working as an EKG Technician can be a rewarding and challenging occupation in the healthcare field. EKG Technicians may perform a variety of duties which could include, but are not limited to preparing patients, administering the electrocardiogram test, and analyzing/interpreting test results.
EKG Technicians often work in various healthcare/diagnostic testing facilities.