Patient Care Technician Program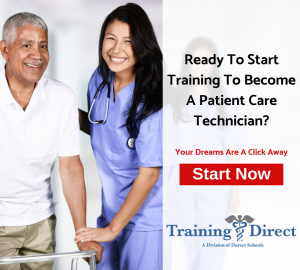 Has a career in healthcare always sparked your interest? Do you enjoy caring for others and having the opportunity to make a real difference? If you answered 'yes' to these questions, a career as a patient care technician could combine your love of helping others while growing your skill set and experience. If you pursue patient care technician training at Training Direct, you could start and finish in a matter of weeks! Our goal is to help you become career-ready so you could have the confidence to enter into the world of healthcare. At Training Direct, we believe in you and we have trained hundreds of successful graduates who are changing the world as healthcare professionals. Are you next?
---
 Patient Care Technicians Can Fill Multiple Jobs In Healthcare
There is no better time to enroll in a PCT program than now. As baby boomers continue to age, there is a need for qualified patient care technicians to assist and care for elderly patients¹. According to the United States Department Of Labor - Bureau Of Labor Statistics, employment of nursing assistants and orderlies is projected to grow 8% from 2019 to 2029², which is faster than average for all occupations. Job positions for nursing assistants and orderlies can also be filled by patient care technician graduates! This can provide you with a few different areas of future employment opportunities once your studies and certifications are completed.
---
Are you ready to become a well-connected member of a healthcare team?
Request information to learn more today!
---
The Role Of A PCT in Healthcare | Patient Care Tech Duties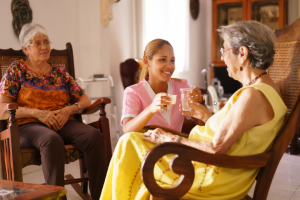 Patient care technicians play an important role in the healthcare industry. PCTs are needed to assist patients with many tasks, as well as provide ongoing support to a medical team. Doctors and patients both depend on patient care technicians on a daily basis and their contributions to the medical industry are both needed and highly valued.
A Patient Care Technician has the opportunity to help others with tasks they might not be able to do by themselves. If a patient is physically disabled, you can help them move around by pushing their wheelchairs and then transferring them back to their beds when they're ready to end their day. Other tasks may include taking someone's vital signs, cleaning and bathing a patient or helping them use the bathroom³. Your attention and care are directly responsible for improving a person's quality of life.
---
Prepare for the PCT Exam in Connecticut at Training Direct
If you live in Connecticut and are ready to begin training as a PCT, Training Direct offers a Patient Care Technician program at our Bridgeport, CT location. Training Direct offers day, evening, and weekend classes so that you can choose a schedule that works for you.
The Patient Care Technician program at Training Direct can also help prepare you for further advancement! Students who successfully complete the Patient Care Technician program at Training Direct will be eligible to take the National Health Career Association Exam in Patient Care Technician (additional fees associated with the examination may apply).
---
Hands-On PCT Training
At Training Direct, you will receive hands-on training that could help prepare you for a career as a Patient Care Technician. We have integrated three highly skilled programs into one cohesive diploma-granting PCT program.
Nurse Aide Training – you can gain both the basic knowledge and practical experience in the terminology, procedures, and techniques required of a Nurse's Aide
Phlebotomy Training – you can learn the right method of collection, processing, and distribution of laboratory specimens
EKG Training – you can gain knowledge and understanding of the cardiovascular system by learning how to perform electrocardiograms
Training in these three areas can help you become a well-rounded student, as you will be exposed to many different aspects of what a PCT may do. You will also receive both on-site instruction as well as clinical hands-on experience. During your training, you will have access to different types of medical equipment, as well as to a patient population that varies. You will also meet professionals that work in the healthcare field so that you can see what it's like to work in a clinical setting. Our PCT Training can help give you the strong foundation needed to become a successful Patient Care Technician.
---
What Your Class Schedule Could Look Like At Training Direct
If you enroll in our Patient Care Technician program at Training Direct, your classes will cover a wide range of topics, including:
Taking and recording vital signs
CPR training
Performing and analyzing electrocardiograms
Infection Control
Venipuncture procedures
Mental health & social services needs
Preserving privacy and confidentiality under HIPAA
…And more!
To receive more info on our Patient Care Technician program, contact us!
---
Top 3 Reasons to Choose Training Direct For Your PCT Training
You can complete the Patient Care Technician program in just a matter of weeks!
Training Direct's PCT training offers hands-on training in both the classroom and clinical setting.
Career services assistance is available to Training Direct graduates.
If you're ready to make a difference and begin training as a Patient Care Technician, requesting information is the first step to getting started. Contact us today to learn more about how Training Direct can provide you with the tools needed to achieve your new career goal.
---
Additional Information:
1&2&3: Bureau of Labor Statistics, U.S. Department of Labor, Occupational Outlook Handbook, Nursing Assistants and Orderlies, on the Internet at https://www.bls.gov/ooh/healthcare/nursing-assistants.htm (visited December 20, 2020).