Electrocardiogram Technician (ECG/EKG) program at Training Direct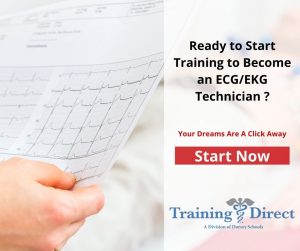 Beginning your career in healthcare could start with an excellent education. By taking EKG classes, you could take your first step towards a fulfilling career in the medical field. At Training Direct, our EKG technician classes give students the opportunity to gain knowledge and skill in performing and understanding electrocardiograms. The terms "ECG" and "EKG" can be used interchangeably when describing the Electrocardiogram Technician role and training. Pursuing electrocardiogram technician training could give you the tools you need to help your patients and the opportunity to play a vital role on a healthcare team. Through their skillset, EKG technicians assist physicians and other medical professionals as they work with patients. In as little as two weeks you could be well on your way to this exciting career in healthcare through Training Direct.
---
What Do EKG Technicians Actually Do?
EKG technicians have the important responsibility of administering electrocardiograms on patients through EKG machines. By attaching electrodes to the patient's chest, arms, and legs EKG machines provide technicians with important information regarding the heart's overall performance. EKG technicians must be able to evaluate and read the different waves of cardiac rhythms gathered from the EKG and report their findings to other medical professionals. These tests can be done while the patient is resting or physically active (stress test). Learning how to correctly perform these basic duties through EKG classes could help you make a difference in someone's life.
---
Begin your healthcare career journey today!
Request information to learn more today!
---
Electrocardiogram Technician Education Requirements at Training Direct
Through electrocardiogram technician training students are required to learn a variety of skills to help them perform well on the job. In general, EKG classes help the student learn fundamental skills such as how to prepare patients for EKG testing as well as the anatomy and physiology of the cardiovascular system. At Training Direct, our EKG technician classes teach students how to properly use various instruments designed to detect heart abnormalities. Our EKG classes offer classroom instruction as well as hands-on training to help you build a solid foundation for your healthcare career. Enrolling in an electrocardiogram technician program could be the boost you need to advance your career as a medical professional and EKG technician.
---
Where You Might Work as an EKG Technician
Becoming an EKG technician could be your opportunity to fill a gap in the healthcare field by supporting a medical team. Through EKG classes you could go on to become a vital member of a healthcare team in your community. Electrocardiogram technician jobs can be rewarding yet challenging as you work with patients and other medical staff. EKG technicians are often found working in hospitals, diagnostic testing facilities and doctor's offices. Their services are needed in a variety of settings which could also give you the opportunity to learn from other highly trained professionals in the field.
---
Enroll in ECG/EKG Technician classes at Training Direct
Take the first step toward your new career through electrocardiogram technician training at Training Direct! Our EKG technician training is currently offered at our Bridgeport, CT and Danbury, CT campus locations.  We provide day and weekend classes for your convenience, but schedules will vary by campus. Training Direct's EKG classes are designed to teach students how to perform and read an electrocardiogram. We also train our students in CPR and offer them the opportunity to pass the CPR exam and receive their CPR certification from the American Heart Association.
Once you have successfully completed all EKG Technician classes and training in our program, you are qualified to receive a certificate of completion and potentially begin your new career in healthcare. Should you decide to continue your education, you could use your EKG classes towards the completion of the Training Direct Patient Care Technician program.
---
Begin your healthcare career journey today!
Request information to learn more today!
---
What You Could Expect from EKG classes at Training Direct
Electrocardiogram technician training at Training Direct is a higher education experience that consists of forty-five clock hours. Along with classroom instruction, students enrolled in the EKG Technician program have the opportunity to learn in a real-world setting through hands-on practice in our EKG Clinical Lab and CPR Lab settings. Our ECG/EKG Technician program at Training Direct covers the following topics:
Patient Preparation for the EKG
Analyzing and Interpreting Different Waves and Cardiac Rhythms
Overview of the Cardiovascular System and the Human Body
Lead Placement
Discussion of Non-Invasive Tests
How To Detect An Abnormal Reading
CPR
..and more!
To receive more info on our electrocardiogram technician training, contact us!
---
Top 3 Reasons to Choose Training Direct For Your EKG Training
You can complete the Electrocardiogram Technician program in just a matter of weeks!
Training Direct's electrocardiogram technician training offers hands-on training in both the classroom and clinical setting.
Career services assistance is available to Training Direct graduates.
Get started on your career journey today!
If you are ready to make a difference in healthcare, then enrolling in EKG technician classes is a wonderful way to begin. Requesting information is the first step to getting started, so contact us today and see how Training Direct could help you achieve your goals.
---
EKG Technician Frequently Asked Questions
Want to learn more about:
What is an EKG Technician?
What does an EKG Technician do?
How to become a EKG Technician in CT?
...and so much more!
Check out our EKG Technician FAQs page.
---