Nurse Aide Program in Bridgeport & Danbury CT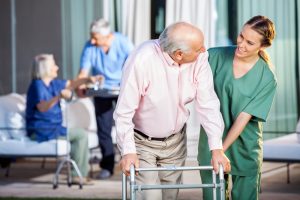 The Nurse Aide program at Training Direct is geared towards preparing students to develop the skills and knowledge necessary to obtain an entry-level position as a Nurse's Aide in a healthcare facility. The Nurse Aide training program will provide students with the opportunity to learn basic knowledge and practical experience in terminology, procedures and techniques that a Nurse's Aide may encounter in the workplace. The Nurse Aide program at Training Direct meets the Connecticut Department of Health Services guideline for eligibility to take the State certification exam for Nurse's Aides. For those wishing to obtain gainful employment as a Certified Nurse Aide (CNA), licensure is required by the State of Connecticut. Training Direct's Nurse Aide program is currently offered at our
Bridgeport, CT school
and our
Danbury, CT school
.  Day, evening, and weekend classes are available, but schedule availability will vary by location.
Nurse Aide Training
Training Direct's Nurse Aide course is divided into two parts: on-site instruction and clinical experience. Students will have exposure to fifty-five (55) hours of in-class instruction and forty-five (45) hours of instruction will take place at one of our clinical sites over the duration of the course. Throughout the nurse aide course and as part of their training, students will be exposed to a varied patient population, different types of medical equipment, and to professionals working in the healthcare field, which can provide a strong foundation for becoming a Nurse's Aide.
Training in the Nurse Aide program includes:
Overview of a career as a Nurse's Aide
Introduction to the human body
Effective Communication and interpersonal skills
Infection control
Safety and emergency procedures
Patient rights
Taking and recording vital signs
End of life care
Patient care procedures
Understanding the aging process
Responding to patient needs and behavior
Care of the cognitively impaired
Basic restorative services
Preserving privacy and confidentiality under HIPPA
..and more!
In as little as 3-4 weeks, you could be on your way to beginning a new career in the healthcare field as a Nurse's Aide!
Career Outlook
A career as a Nurse Aide can be a rewarding and challenging occupation in the healthcare field. Nurse Aides (also often referred to as Nursing Assistants) provide basic care and assist residents with daily activities which may include, but are not limited to cleaning and bathing, dressing, turning and transferring patients, listening to patients health concerns and communicating them to a nurse, taking patient vital signs, and serving meals and helping patients eat. Upon certification/licensure as a CNA, Nurse Aides most often work in nursing care facilities; however, they may also be found working in hospitals, residential care facilities, and with home health care service providers. Graduates who successfully complete the Nurse Aide Program at Training Direct will be eligible to take the State of Connecticut Nurse Aide Exam.
Interested in checking out other programs...click here