Nurse Aide Program at Training Direct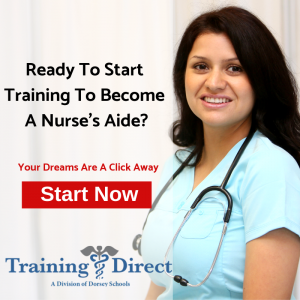 People have always said that caring for others and being patient are some of your best qualities. A dream job for you would be an opportunity where you can showcase compassion on a daily basis while creating job stability for you and your family. For many like you, training for a new career in healthcare could be a step toward a better future. Have you considered CNA classes? You could do what you love as a nurse's aide and have the peace of mind that comes with a career that has a healthy demand¹. Why not pursue a profession where you have the possibility of climbing the career ladder and becoming more satisfied with your contribution to the world? If this is you, learning more about our Nurse Aide program could potentially change your life. At Training Direct, we believe in you. Our goal is to help you achieve success and become career-ready.
---
The Employment Demand for Nurse Aides Is Growing | CNA Job Outlook
The employment of nurse's aides often referred to as "nursing assistants" is projected to grow by 8 percent from 2019 to 2029, according to the Bureau of Labor Statistics². Now is an opportune time to begin training in a nurse aide program. You're already off to a promising start as you possess the top qualities of a nurse's aide, which include putting people at ease and giving personalized attention. Enroll in the Training Direct nurse aide program and learn how to maximize your existing skillset and acquire new strengths. Your future awaits your decision.
---
Are you ready to become a well-connected member of a healthcare team?
Request information to learn more today!
---
The Role Of A Nurse Aide | Certified Nurse Aide Duties
Nurse's aides or certified nurse aides (CNA) are responsible for helping patients in their day-to-day tasks. If you successfully graduate from a CNA program and pass the CNA exam, your work environments could include nursing homes, hospitals, home health care services or long term care facilities. You could have the opportunity to be directly involved in helping patients eat, dress, and bathe. Upon CNA certification, you could also help assist in taking patient vital signs and relaying patient health concerns to nurses. Your capability of working with patients closely will be heavily relied upon by medical staff.
---
Looking for CNA classes in Connecticut? | Prepare for the CNA Competency Exam at Training Direct
If you reside in Connecticut and are looking for CNA classes, Training Direct offers a Nurse Aide program, which is currently available at our Bridgeport, CT and Danbury, CT locations. To help provide you with flexibility around your schedule, Training Direct offers day, evening, and weekend classes (schedule availability will vary by campus).
The nurse aide program at Training Direct also meets the Connecticut Department of Health Services guidelines for eligibility to take the state Certified Nurse Aide (CNA) Exam. If you're wishing to obtain gainful employment as a CNA, licensure is required by the State of Connecticut.
Graduates who successfully complete the nurse aide program at Training Direct will be eligible to take the State of Connecticut Certified Nurse Aide (CNA) Competency Evaluation.
---
Hands-on CNA Training
The nurse aide program at Training Direct is geared towards preparing you with the skills and knowledge necessary to obtain an entry-level position as a nursing assistant in a healthcare facility. As a part of our training program, you'll have the opportunity to receive both on-site instruction (55 hours) and clinical experience (45 hours). Throughout the course and your training, you'll be exposed to varied patient populations, different types of medical equipment and professionals working in the healthcare field. Our curriculum aims to provide you with a strong foundation for becoming a CNA (upon graduation and receiving a passing score in the CNA exam).
---
What Your Class Schedule Could Look Like At Training Direct
If you enroll in the nurse aide program at Training Direct you'll be exposed to a variety of topics in your classes, including:
Introduction to the human body
Effective communication and interpersonal skills
Infection control
Taking and recording vital signs
Patient care procedures
Safety and emergency procedures
Preserving privacy and confidentiality under HIPPA
…and more!
To receive more info on our nurse aide program, contact us!
---
Top 3 Reasons to Choose Training Direct For Your Nurse Aide Training
You can complete the Nurse Aide program in as little as 3-4 weeks!
Training Direct's Nurse Aide program offers hands-on training in both the classroom and in a clinical setting.
Career services assistance is available to Training Direct graduates.
Now that you have learned a little more of what your career could possibly look like as a Nurse's Aide, let's discuss your training options that best achieve your goals and lifestyle requirements. We want you to grow in your career and the first step is requesting information. Learn what our hands-on career-focused training can do for your future.
---
Certified Nurse Aide Frequently Asked Questions
Want to learn more about:
What is a Nursing Assistant?
Where can CNA's work?
How do you become a CNA in CT?
& so much more!
Check out our CNA FAQ page.
---
Additional Information
1&2: *Bureau of Labor Statistics, U.S. Department of Labor, Occupational Outlook Handbook, Nursing Assistants and Orderlies,
on the Internet at https://www.bls.gov/ooh/healthcare/nursing-assistants.htm (visited December 17, 2020).