Nurse Aide Training Program at Training Direct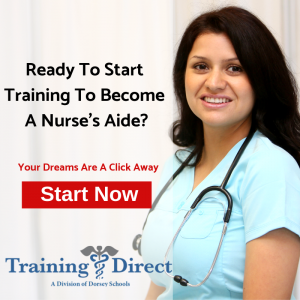 Seeking medical attention, whether preventative or reactive, can be nerve-racking. There's nothing like a kind, thoughtful, knowledgeable medical professional who can help calm your nerves and assist you when you're feeling on edge about your health. If you've ever encountered a medical professional like that and it inspired you to do the same for others, then it may be time to consider enrolling in a nurse aide training program!
If you're interested in becoming a certified nursing aide (CNA), you'll want to find a CNA training program tailored to provide you with the necessary skills and qualities needed to pass the CNA exam and prepare you for a fulfilling career in healthcare. Luckily, if you live near Bridgeport or Danbury, Connecticut, there's no need to start searching for "nurse aide programs near me." Training Direct may be all you need!
Training Direct's nurse aide program is designed to cover potential tasks, duties and details of the CNA profession. Before you sign up, however, you'll want to know what kinds of responsibilities you can expect in your upcoming career!
---
What Are the Duties of a Nurse Aide?
A CNA may have a plethora of duties to cover during each shift. Exactly what are the duties of a nurse aide, you ask?
A nurse aide's duties and responsibilities may consist of the following:
Clean and bathe patients
Listen to and record patients' health concerns and report information to nurses and doctors
Measure patients' vital signs
Assist patients with eating
Be friendly and compassionate
And so much more!
While the healthcare world can be fast-paced and unexpected, these are the types of duties generally expected. If that sounds in line with your future goals, then let's talk about your job outlook!
---
Are you ready to become a well-connected member of a healthcare team?
Request information to learn more today!
---
CNA Job Outlook: What Does the Future Hold?
It's understandable if you don't want to be stuck in a dead-end position with no room to grow or change things up. Luckily, the demand for nursing aides could lead to many types of opportunities in entry-level nursing assistant positions. In fact, employment of nursing assistants is projected to grow 8 percent from 2019 to 2019¹ according to the Bureau of Labor Statistics.
This also means you won't solely have to work in a hospital, for example. You could also possibly find work in a nursing home or other long-term care facilities, or you could dive into home healthcare services. Your CNA job outlook is an entire world waiting to be explored. But first, training!
---
Nurse Aide Training Programs: Course Topics
Training Direct's nurse aide training program aims to provide an all-around education on the duties, skills, and expectations of a CNA. The nurse aide program curriculum was designed to help students develop a strong foundation in the field so they can confidently enter the job market. Our CNA training program covers a variety of topics you may face on the CNA exam, including the following:
Introduction to the human body
Effective communication and interpersonal skills
Infection control
Taking and recording vital signs
Patient care procedures
Safety and emergency procedures
Preserving privacy and confidentiality under HIPAA
…And more!
To receive more info on our nurse aide program, contact us!
Excited to get started? Contact Training Direct today! But how long will it take? Let's go over the specifics.
---
How Long Is the Nurse Aide Program at Training Direct?
If you're looking for "nurse aide programs near me," then make sure to check out Training Direct. We offer day, evening and weekend classes at our two locations: Bridgeport, CT and Danbury, CT. Class schedules will vary by location.
Training Direct's Nurse Aide Training program meets the Connecticut Department of Health Services guidelines for eligibility to take the state Certified Nurse Aide (CNA) Exam. To acquire gainful employment as a CNA, certification is required by the State of Connecticut.
Upon graduation from the CNA training program, students will be eligible to take the State of Connecticut Certified Nurse Aide (CNA) Competency Evaluation. Training Direct has determined that its Nurse Aide program curriculum is sufficient to fulfill educational requirements for certification in the State of Connecticut only. No educational determinations have been made for any other state, district or US territory in regards to certification requirements.
---
Top 3 Reasons to Choose Training Direct For Your Nurse Aide Training
You can complete the Nurse Aide program in as little as 3-4 weeks!
Training Direct's Nurse Aide program offers hands-on training in both the classroom and in a clinical setting.
Career services assistance is available to Training Direct graduates.
Now that you have learned a little more of what your career could possibly look like as a Nurse's Aide, let's discuss your training options that best achieve your goals and lifestyle requirements. We want you to grow in your career and the first step is requesting information. Learn what our hands-on career-focused training can do for your future.
---
Certified Nurse Aide Frequently Asked Questions
Want to learn more about:
What is a Nursing Assistant?
Where can CNA's work?
How do you become a CNA in CT?
& so much more!
Check out our CNA FAQ page.
---
Additional Information
*Bureau of Labor Statistics, U.S. Department of Labor, Occupational Outlook Handbook, Nursing Assistants and Orderlies,
on the Internet at https://www.bls.gov/ooh/healthcare/nursing-assistants.htm#tab-6.