Nurse Aide Training Program at Training Direct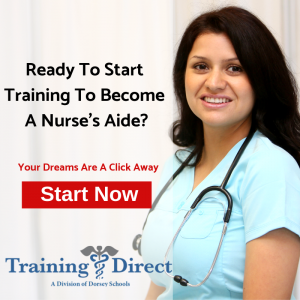 Turn your passion for helping care for others into a fulfilling career as a Certified Nursing Assistant (CNA). At Training Direct, our Nurse Aide program is designed to help prepare you to pursue an entry-level CNA career in Connecticut.  Training to become a CNA may often be referred to as CNA training, Nurse Aide training, or even Nursing Assistant training, just to name a few.  The Nurse Aide program at Training Direct in Connecticut can prepare individuals to pursue a career as a CNA.
---
CNA Training in Connecticut
For those living in Connecticut, the first step towards pursuing your new career is researching various CNA programs. During your CNA training, you could learn essential skills such as how to properly take and record vital signs, assist patients with a variety of daily activities, and how to effectively care for those who are cognitively impaired.
For those looking for CNA programs in Connecticut, Training Direct can help you get on your way.  Our Nurse Aide Training has been designed to fulfill the educational requirements for those who wish to pursue a career as a CNA.  At Training Direct, our team is all-in for you. Our Nurse Aide program has been skillfully designed to provide students with both classroom instruction and hands-on clinical training to provide them with the knowledge, skills, and practice needed to pursue their new career.
---
Begin your healthcare career journey today!
Request information to learn more today!
---
CNA Certification in Connecticut
For those who wish to pursue a CNA career, they will need to obtain certification after successfully completing a state-approved CNA Training Program.  Those researching CNA programs will want to ensure that their program is not only approved but is also designed to prepare them effectively for the CNA certification exam.
Training Direct's Nurse Aide Training program meets the Connecticut Department of Health Services guidelines for eligibility to take the state Certified Nurse Aide (CNA) Exam. To acquire gainful employment as a CNA, certification is required by the State of Connecticut.
Upon graduation from the CNA training program, students will be eligible to take the State of Connecticut Certified Nurse Aide (CNA) Competency Evaluation. Training Direct has determined that its Nurse Aide program curriculum is sufficient to fulfill educational requirements for certification in the State of Connecticut only. No educational determinations have been made for any other state, district or US territory in regards to certification requirements.
If you are ready to begin pursuing CNA certification in Connecticut, the Nurse Aide program at Training Direct can help you get on your way.  Request Information today to learn more!
---
CNA Training – What Can You Learn?
CNA classes are designed to expose students to a variety of topics and skills.  These classes and CNA programs are designed to prepare students to challenge the state certification exam and pursue their CNA career.  As you look at different CNA programs, it is important to keep certain things in mind.  Look at the topics you will be exposed to in your CNA classes.  Are they designed to set you up for success as you pursue your new career?  Does the CNA school have a strong reputation for offering quality training and assisting graduates?
At Training Direct, our Nurse Aide Training aims to provide an all-around education on the duties, skills, and expectations of a CNA. The Nurse Aide program curriculum was designed to help students develop a strong foundation in the field so they can confidently enter the job market. Our Nurse Aide training program covers a variety of topics you may face on the CNA exam, including the following:
Introduction to the human body
Effective communication and interpersonal skills
Infection control
Taking and recording vital signs
Patient care procedures
Safety and emergency procedures
Preserving privacy and confidentiality under HIPAA
…And more!
To receive more info on our Nurse Aide program, contact us!
---
Looking for "CNA Classes Near Me?"
Are you searching for "CNA classes near me?"  If so, you should consider Training Direct as you are evaluating various CNA programs.
The Training Direct Nurse Aide Training is offered at the following campus locations:
At Training Direct, we offer day, evening, and weekend classes for the Nurse Aide program, however, schedule availability will vary by location.  In as little as 3-4 weeks, you could complete the Nurse Aide Training with help from Training Direct.  Contact us today to learn more about our training program.
---
Career Options After a CNA Training Program and Certification
Once you complete your training program and obtain your certification, you can begin to pursue employment opportunities as a CNA.  CNAs (also often referred to as Nursing Assistants and Orderlies) can be found working in a variety of settings.  These may include nursing care facilities, continuing care retirement communities, assisted living facilities, hospitals, and even with home healthcare service providers.  You may have a variety of different healthcare settings to choose from when you launch your new CNA career.
In addition, the current job outlook for Nursing Assistants and Orderlies (positions that can be filled by CNAs and/or Nurse Aide program graduates, once certified) is good.  According to the US Department of Labor, Bureau of Labor Statistics, employment of Nursing Assistants and Orderlies is projected to grow 8% from 2020 to 2030.  This projected job growth is as fast as average for all occupations. 1
When you pursue a CNA career, you can take comfort in knowing that the work you do daily is meaningful and is truly making a difference.  In addition, you may have flexibility in the healthcare setting you choose to work at and may be able to benefit from the fact that these roles are currently needed in our healthcare system.
Your rewarding new CNA career can begin here at Training Direct!
---
Top 3 Reasons to Choose Training Direct For Your Nurse Aide Training
You can complete the Nurse Aide program in as little as 3-4 weeks!
Training Direct's Nurse Aide program offers hands-on training in both the classroom and in a clinical setting.
Career services assistance is available to Training Direct graduates.
Get started on your career journey today!
Now that you have learned a little more of what your CNA career could possibly look like and the steps you will need to take to get there, let's discuss your training options that best achieve your goals and lifestyle requirements. The Nurse Aide program at Training Direct can help you as you embark on your journey towards becoming a CNA.  We want you to grow in your career and the first step is requesting information. Learn what our hands-on career-focused training can do for your future.
---
Certified Nurse Aide Frequently Asked Questions
Want to learn more about:
What is a CNA?
What does a CNA do?
How to become a CNA in CT?
…and so much more!
Check out our CNA FAQ page.
---
Additional Information
Bureau of Labor Statistics, U.S. Department of Labor, Occupational Outlook Handbook, Nursing Assistants and Orderlies, at https://www.bls.gov/ooh/healthcare/nursing-assistants.htm (visited January 18, 2022).