Phlebotomy Tech. Program in Bridgeport & Danbury CT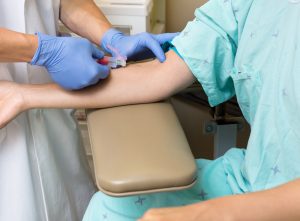 The Phlebotomy Technician program at Training Direct is geared towards preparing students to develop the skills and knowledge necessary to obtain an entry-level position as a Phlebotomist in a healthcare facility. The Phlebotomy Technician training program will provide students with the opportunity to learn knowledge and skills such as the collection, processing, and distribution of laboratory specimens according to established procedures. In addition, throughout the course, emphasis is placed on safety standards, quality control procedures, as well as legal and ethical considerations that a Phlebotomist may encounter in the workplace. Training Direct's Phlebotomy Technician program is currently offered at our
Bridgeport, CT school
and our
Danbury, CT school
.  Day, evening, and weekend classes are available, but schedule availability will vary by location.
Phlebotomy Technician Training
Training Direct's Phlebotomy Technician program consists of 100 instructional hours. In addition, as a graduation requirement for this program, students must perform five (5) live unaided successful venipunctures and ten (10) unaided successful capillary collection procedures on their classmates. The successful completion of these procedures can be applied towards the eligibility requirements for certifications, such as the National Heathcareer Association Certification. Additional fees may apply for National Certification exams.
Training in the Phlebotomy Technician program includes:
History of Phlebotomy
Effective communication and documentation skills
Exposure to ethical, legal, and regulatory matters
Infection control
Medical Terminology
Anatomy and Physiology
Venipuncture procedures
Specimen handling and processing
..and more!
In as little as 3-4 weeks, you could be on your way to beginning a new career in the healthcare field as a Phlebotomy Technician!
Career Outlook
A career as a Phlebotomist can be a rewarding and challenging occupation in the healthcare field. Phlebotomists perform duties such as drawing blood from patients for tests, transfusions, research, or donations, consult with patients to alleviate any concerns they may have about the procedure, verify a patient's identity to ensure proper labeling for processing/testing, enter patient information into the on-site health database, and maintain the necessary equipment and instruments needed to perform the duties associated with their role.
Upon successful completion of their training, Phlebotomists most often work in hospitals, medical and diagnostic labs, blood donation centers, and physicians offices.
Interested in checking out other programs...click here