Phlebotomy Technician Program at Training Direct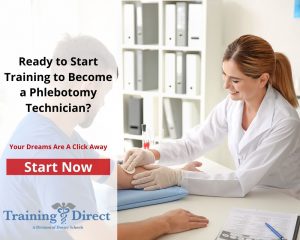 If you are looking for a career that could challenge you yet help you make a difference in your community, it may be time to enroll in a Phlebotomy Technician program. Phlebotomists work hand in hand with highly trained medical staff to assist patients in need. This could be the ideal career path for you if you have a desire to play an important role in the healthcare field. To become a phlebotomist you must successfully graduate from a Phlebotomy Technician program. Through Training Direct's Phlebotomy Technician program, we provide students with hands-on Phlebotomy Tech training that could better assist them in the future.
As a student in our career training program, you could have the opportunity to learn about how to draw blood from patients. In addition, students could also have the opportunity to learn about the processing, and distribution of laboratory specimens according to established medical procedures. In our phlebotomy technician course, we prioritize teaching safety standards, quality control procedures, as well as legal and ethical considerations that a Phlebotomist may encounter in the workplace.
Training Direct offers these classes at our Bridgeport, CT, and at our Danbury, CT locations. We know our students have lives outside of the classroom so for your flexibility, we offer day, evening, and weekend classes. Schedule availability may vary by location.
---
Are you ready to become a well-connected member of a healthcare team?
Request information to learn more today!
---
The Role of a Phlebotomy Technician: What Does a Phlebotomy Technician Do?
Phlebotomy tech training is geared with your future in mind. We aim to give you the tools you need to pursue entry-level opportunities as a phlebotomist. Our course could help you not just qualify for a job but effectively handle daily phlebotomist job responsibilities. Maybe you are thinking, "What does a phlebotomy technician do on the job?" Part of your duties could include drawing blood samples, preparing samples, alleviating patient concerns, explaining your work to patients, and properly responding when patients have adverse reactions to blood work.
Correct training could give you confidence and expertise as you handle the variety of tasks entrusted to you. Here are some additional duties you may perform as a Phlebotomist:
Ease patients about having their blood drawn
Correctly label drawn blood for testing or processing
Enter blood work data into a patient's medical record
Organize and maintain medical instruments and supplies such as needles, test tubes, and blood vials

1
---
Phlebotomy Tech Job Outlook
According to the US Department of Labor, Bureau of Labor Statistics, employment of phlebotomy techs, commonly known as phlebotomists, is projected to grow 17 percent from 2019 to 2029, which is much faster than average for all occupations2. These healthcare workers could be found working in hospitals, diagnostic laboratories, and in blood donation centers collecting blood and analysis3.
Working as a phlebotomist may also offer opportunities to travel to different offices, long-term care centers, patients' homes, and other sites to set up mobile donation centers4. Qualified phlebotomists could be greatly needed as well during a health emergency which could result in an increased interest in blood donations and or a greater need for blood5.
---
What your Phlebotomy Technician Course at Training Direct Could Look Like
Our Phlebotomy Technician program at Training Direct is designed with our student's end goal in mind: a successful career. We assist in this process by helping our students in the education and training of essential skills that would be required of them in their new career. Our Phlebotomy Technician program consists of 100 clock hours and as a graduation requirement for this program, students must perform: 
Five (5) live unaided successful venipunctures and

Ten (10) unaided successful capillary collection procedures on their classmates.
If these procedures are successfully completed students could be closer to becoming certified phlebotomy technicians. The successful completion of the procedures could be applied towards the student's eligibility requirements for their phlebotomy technician certification, such as the National Healthcare Association Certification. Additional fees and requirements may apply to pursue and/or obtain certification. Here is a closer look at what the Phlebotomy Technician program includes:
History of phlebotomy practice
Effective communication and documentation skills
Exposure to ethical, legal, and regulatory matters
Infection control
Medical terminology
Anatomy and physiology
Venipuncture procedures
..and more!
To receive more info on our phlebotomy technician program, contact us!
---
Top 3 Reasons to Choose Training Direct For Your Phlebotomy Tech Training
You could complete the Phlebotomy Technician program in as little as 3-4 weeks!
Training Direct's Phlebotomy Technician training program offers hands-on training in both the classroom and a clinical setting.
We offer career services assistance to Training Direct graduates to help give their career a head start.
---
Are you ready to take your place in the essential healthcare field? There has never been a greater need for qualified phlebotomists ready to take on any task! Contact us today to enroll in Training Direct's Phlebotomy Technician program. Your future is calling! Will you answer?
---
Additional Information: