We continue to explore the wonderful world of Medical Billing and Coding, leading up to National Medical Biller's Day later this month on Thursday, March 31, 2016! For those not trained in the field of Medical Billing and Coding, it's not uncommon to be unsure of what exactly happens to your medical bills once you leave the Doctors office. For many, they just know that they have received their medical care, and they will wait to receive further communication in the mail (or by phone) from their healthcare provider or their insurance company. There's a lot happening behind the scenes though from the moment a patient leaves their healthcare provider to that point when they receive follow-up communication about their bill. Here's where Medical Billers and Coders come into play. They are responsible for correctly coding and processing bills to ensure all parties (patients, doctors, healthcare facilities, and insurance companies) all have what they need to document the services provided and process payment (to the doctor and/or healthcare provider) for these services. Part of this process involves knowing which type of Medical Billing will come into play. Today we're going to further explain the two types of Medical Billing used in the healthcare industry.
Professional Billing
Professional Billing is completed exclusively on the CMS/HCFA-1500 Forms.
Professional Billing is typically used in individual physicians' practices.
Medicare, Medicaid and some other companies will accept electronic filing of claims, but some are still made via paper.
If an electronic claim is filed, it uses the 837-P, which is the electronic version of the CMS 1500 form.
Institutional Billing
Institutional Billing usually covers billing for hospitals, clinics, rehab facilities, nursing homes, etc.
The UB-04 is the standard claim form used in Professional Billing.
For electronic claims in Professional Billing, the form used will be the 837-I.
While specific job duties will vary from employer to employer, those who work in Institutional Billing, will likely only focus on billing and/or collections. Medical Coding is handled by designated coders. This is because coding for institutional services if often more complex than what is seen in professional billing, which necessitates the attention of a dedicated coder.
The Medical Billing and Coding Specialist Program at Training Direct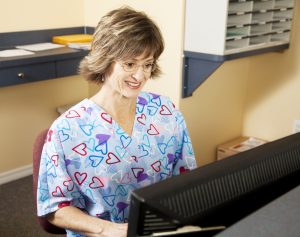 The Medical Billing and Coding program at Training Direct in Connecticut is comprised of eighty (80) instructional hours. Students enrolled in this program can benefit from in-class instruction covering a variety of topics to assist in their transition from the classroom to an administrative position within a healthcare setting.
Training Direct's Medical Billing and Coding Specialist program includes training on the following topics:
Medical Terminology
Systems of the Human Body
Keyboarding
Medical Insurance Billing and Reimbursement
HIPPA and the Legal Medical Record
Physician Coding and Compliance
Claims Processing
Billing and Reimbursement for providers such as Medicare, Medicaid, and others
ICD-9CM and CPT
Coding Compliance
Exposure to Medical Law and Ethics
..and more!
 In as little as 4 weeks, you could be on your way to beginning a new career in the healthcare field as a Medical Billing and Coding Specialist!
Training Direct's Medical Billing and Coding Specialist program is currently offered at our Bridgeport, CT school and our Danbury, CT school.  Day, evening, and weekend classes are available, but schedule availability will vary by location.
____
Source:
http://medicaloffice.about.com/od/medicalbilling/tp/The-Major-Differences-Between-Physician-And-Hospital-Billing.htm