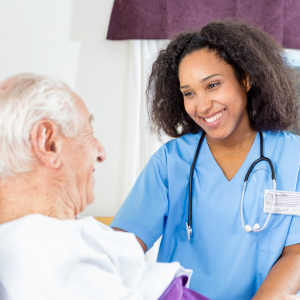 A career as a CNA can be very rewarding. In addition, for those who want to work in healthcare, pursuing a career as a CNA can be a great first step. If you have decided that becoming a CNA is right for you, congratulations! As you pursue your new career as a CNA, you may have some questions. We have compiled some frequently asked questions about becoming a certified nurse aide. Check out our CNA FAQs below.
---
What is a CNA?
A certified nursing assistant or certified nurse aide helps patients with a wide variety of needs and provides basic patient care. Most of their work is completed under the supervision of a licensed healthcare professional, such as a Registered Nurse (RN) or a Licensed Practical Nurse (LPN).
---
What does a CNA do?
CNAs can complete a variety of tasks in the workplace. CNAs are typically responsible for the general care of patients. Duties vary based on the environment they work in, and the specific needs of each patient. Most common responsibilities of a CNA may include taking and recording vital signs, assisting patients as they move around their room, helping with feeding and personal hygiene, as well as assisting doctors and nurses during medical procedures.
---
Ready to make a career change? Get started on your Nurse Aide training at Training Direct!
Request information to learn more today!
---
What is a Nursing Assistant?
Nursing assistants fulfill basic quality-of-life needs for patients of any age in residential nursing care facilities and outpatient clinics. Nursing assistants meet with patients and gather information about the patient's conditions and wellbeing. Someone who holds the title of "Nursing Assistant" may or may not possess a certification, whereas someone who has the title of a CNA is implied to be certified (as the name suggests, Certified Nurse Aide).
---
Where can CNAs work?
Many CNAs work in nursing homes or care facilities, the reaming CNAs may work in hospitals, assisted living facilities, home healthcare services, and for the government. Because hospitals and nursing homes are open every day, CNAs are needed 24 hours a day, 7 days a week, and 365 days a year.
---
How do you become a CNA in CT?
CNAs must complete a state-approved educational program in which they can learn the basic principles of providing patient care and complete supervised clinical work. Upon successfully completing their program, candidates complete the Connecticut Certified Nurse Aide Registry application. They then take their certified nurse aide competency exams (which consists of a written exam as well as a clinical skills exam). Upon successfully completing the exams, candidates are mailed the CNA certificate and added to the Connecticut CNA registry.
Training Direct has determined that its Nurse Aide program curriculum is sufficient to fulfill educational requirements for certification in the State of Connecticut only. No educational determinations have been made for any other state, district or US territory in regards to certification requirements.
---
How do you become certified as a CNA?
As previously mentioned, after you complete your training program, you must complete your application for the Connecticut Certified Nurse Aide Registry. You will then schedule your CNA competency exam (which consists of a written exam and a clinical exam). After you successfully challenge the exams, you will be mailed your CNA certificate and added to the Connecticut Nurse Aide Registry.
---
What does a CNA's job description look like?
CNAs provide basic care to their patients and help with activities associated with daily living, oftentimes for patients who may be elderly or disabled. A CNA's job description may vary from employer to employer and they fulfill a number of tasks. The duties a CNA will perform will also vary based on the needs of their patients. Some of the tasks that may appear in a CNA's job description may include:
Clean and bathe patients
Help patients use the toilet and dress
Reposition patients throughout the day, this could involve turning over in bed, transferring the patient from a bed into a wheelchair
Listen to and record patients health concerns and report information to nurses and doctors
Measure patients' vital signs
Assist patients with eating
Being friendly and compassionate
---
How long does it take to become a CNA?
The amount of time it may take to become a CNA may vary on a few factors. The first is the length of your training program. Many CNA training programs can be completed in just a matter of weeks. Another factor is how long it takes you to schedule, complete, and successfully challenge your CNA competency examinations. While this may seem like a lot, it doesn't take as long to become a CNA as it does some other professions in the world of healthcare.
---
What is covered in CNA training?
The topics covered in your CNA training may vary from school to school. Generally speaking, during your time in the classroom, you should begin to develop knowledge on the human body, effective patient care and safety, medical terminology, along with documentation and ethics. Students will also likely participate in a variety of clinical settings that are designed to prepare them for real-world environments and scenarios.
---
What does it take to become a CNA?
In addition to the education and certification requirements that we have already discussed, there are several characteristics a CNA should possess in order to be effective in their role. Some of these characteristics of CNAs include:
Great Communicators: CNAs must be able to communicate effectively not only with their patients but also with other healthcare workers. Communication skills do not always mean you are the one talking. Being able to actively listen and make changes to accommodate your patients is key.
Compassionate: CNAs care for the sick, injured, and elderly. This type of work requires a huge amount of compassion and care. A good rule to follow is treat every patient as if they were one of your loved ones is a great way to carry that compassion from patient to patient.
Patience: The routine tasks of cleaning, feeding, and bathing patients can be very stressful. Even though your job gets stressful, you need to make sure you remain patient and empathetic with your patients.
Comfortable with Physical Tasks: CNAs are on their feet for the majority of their shift. They should be comfortable performing physical tasks such as lifting or moving patients.
If you are worried about possessing any of these skills, do not let it deter you from your goal of becoming a CNA. You can always choose to make any of these an area of focus during your CNA classes.
---
Learn how Training Direct can help you get started on your journey towards becoming a CNA!
Request information to learn more today!
Additional Information:
Bureau of Labor Statistics, U.S. Department of Labor, Occupational Outlook Handbook, Nursing Assistants and Orderlies, on the Internet at https://www.bls.gov/ooh/healthcare/nursing-assistants.htm (visited May 10, 2019).
https://www.prometric.com/en-us/clients/nurseaide/pages/ct.aspx